1. I Ain't no Saint
2. The Loop
3. Calling Card
4. As the Crow Flies
5. Off the Handle
6. Bullfrog Blues
7. (Back on My) Stomping Ground
8. Empire State Express
9. Continental Op (To : Dashiel Hammet)
10. Shin Kicker
11. Public Enemy No. 1
12. Pistol Slapper Blues
13. Don't Start me Talkin'
14. Nothing but the Devil
15. Alexis
16. Barley and Grape Rag
Rory décède le 14 juin 1995. Dès octobre sort aux USA "A Blue Day For The Blues", une excellente compilation, avec une sélection de titres idoine axée sur la facette blues de Rory.
Plusieurs titres blues n'ont pas pu être inclus, car IRS n'avait les droits que pour exploiter les titres de 7 albums.
Plus originale qu'un simple best-of, ce receuil était à recommander pour ceux voulant découvrir l'oeuvre de Rory et notamment pour ceux intéressés par le "Rory bluesman".
Malheureusement, il est désormais épuisé.
L'avis -sévère- de Donal Gallagher sur cette compile:

"I was actually upset about the release because they did not have the rights to put out a compilation and they went ahead without my authority.
I.R.S. was going down under at that time and were desperate to put anything out that would sell for them."
Le verso du CD: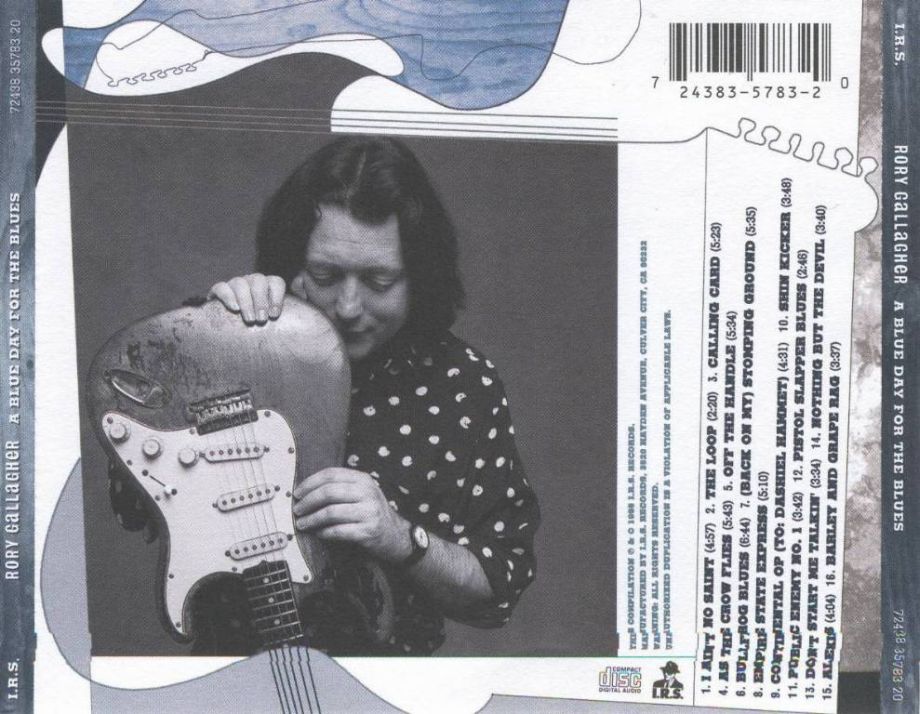 ---
Permission de ce forum:
Vous
ne pouvez pas
répondre aux sujets dans ce forum