Voici 3 photos prises par Brian Brady le 16 mars 1991 au club The Stone de San Francisco: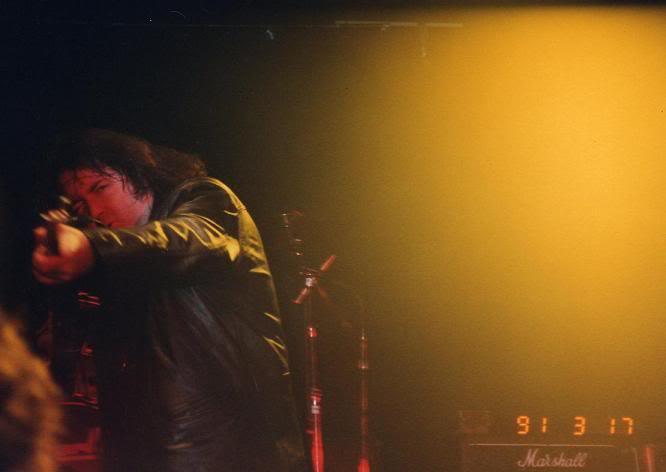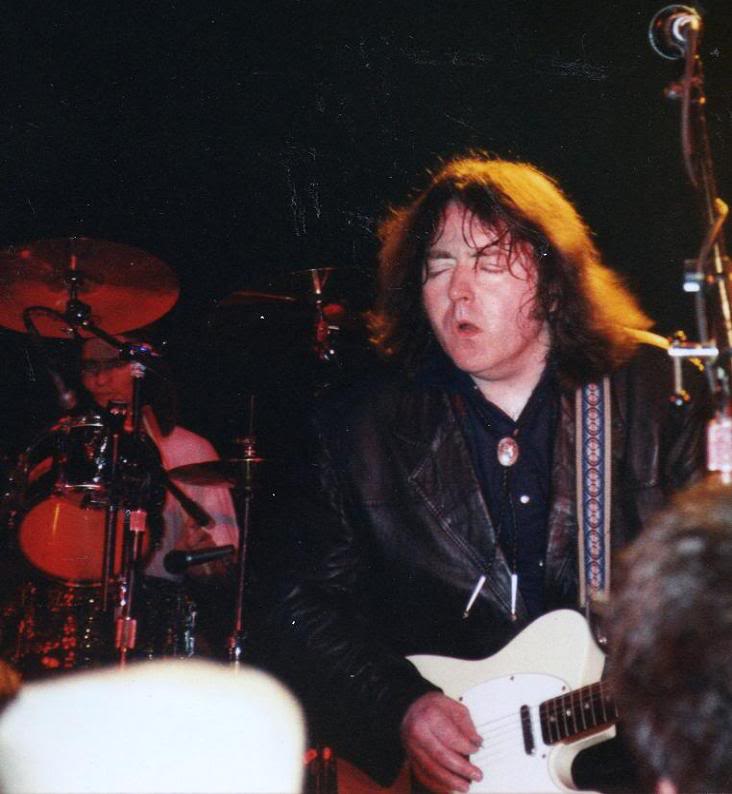 Rory et Brian Brady: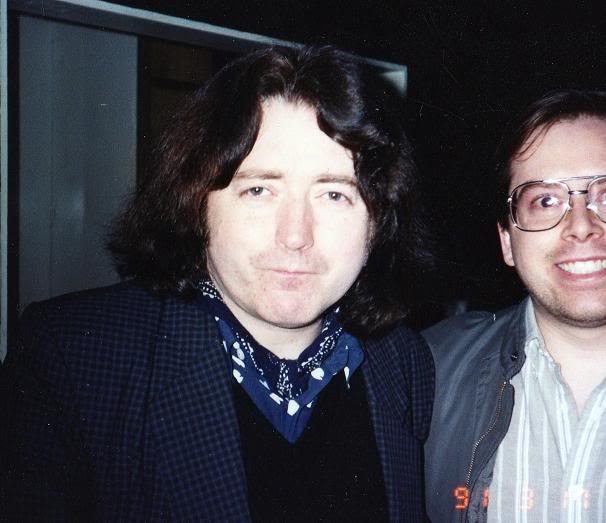 Le témoignage de Brian Brady:
As for meeting Rory, it was 60 seconds at the most, and it was one of the best minutes of my life. After the show, 95% of the people left, but the Stone was an excellent rock club, knew fans would want to hang around and meet Rory, so the club security had us lined up from the edge of the stage to the door, and Rory came out, said Hello to the first prson in line, posed for a picture if he was asked, and on and on down the line, so I was 10th or 11th in line, along came Rory, He was sweaty and exhausted, but polite as hell as we all told him how great he was and how much we enjoyed the show, he shook my hand, I asked if I could get a picture taken with him, he said absolutely, so I handed my tiny, crappy little Kodak to the guy next to me and ask if he could snap a picture, as you can see, he cut off half my face, I'll never know if he did it on purpose, because I have know idea who he was, just the next guy in line, maybe he was mad he didn't think to bring a camera, or ask if I would take a picture of him and Rory and mail it to him, because I would have. After shaking Rory's hand and having my picture taken, Rory moved onto the next guy in line and security pushed me out the door.

I took a few pictures during the show, but as I said, it was a cheap, little camera and only one other picture came out so that you can even tell what it's about, I'll scan it later today and post it. Wish I could tell you more. Maybe if I had taken notes, I could relive the memories better, but when I think about the night I saw a Rory Gallagher concert and got to shake his hand and get a picture taken with the man, I am filled with such JOY, I don't think it matters to me about the little details that I usually obsess over.
SOURCE
Un enregistrement de ce concert existe, voici la tracklist:
01) Continental Op
02) Moonchild
03) I Wonder Who
04) Don't Start Me Talking
05) Tattoo'd Lady
06) Off The Handle
07) Shin Kicker
08) The Loop (cut in)
09) A Million Miles Away
10) Laundromat
11) Kickback City
12) Going Down To Eli's
13) Shadow Play
14) She Moves Through The Fair / Out On The Western Plain
15) Walking Blues
16) Pistol Slapper Blues / Keep Your Hands Off Her (cut)
17) Big Guns (cut in)
18) Messin' With The Kid
19) Tumbling Dice / Bullfrog Blues / All Around Man / The Boys Are Back In Town / Be My Guest Tonight (11 mins)
20) Loanshark Blues
21) Secret Agent
Alors ça c'est de l'inédit !

__________________________________________
"It is in the shelter of each other that the people live". Irish proverb.

JLo




Messages

: 32291


Date d'inscription

: 15/02/2012



Ah oui!!!! Magnifique!!!!!! Je suis ravie!!!

__________________________________________
"On est un groupe de rock, Et on joue du rock, c'est tout ce qu'on fait. On debarque dans votre ville, on vous nique la tête avec notre rock et on dégage." Lemmy Kilmister

Emi




Messages

: 4358


Date d'inscription

: 13/01/2011


Age

: 43



---
Permission de ce forum:
Vous
ne pouvez pas
répondre aux sujets dans ce forum