Voici une planche de 29 photos en N&B prises lors du cocnert du RGB Mk2 (le quartette) à New-York le 7 septembre 1974.
J'ai trouvé par hasard cette planche sur Internet, je ne connais pas le nom du photographe.
Vous pouvez cliquer sur l'image pour voir les photos en plus grand, mais ça reste du petit format.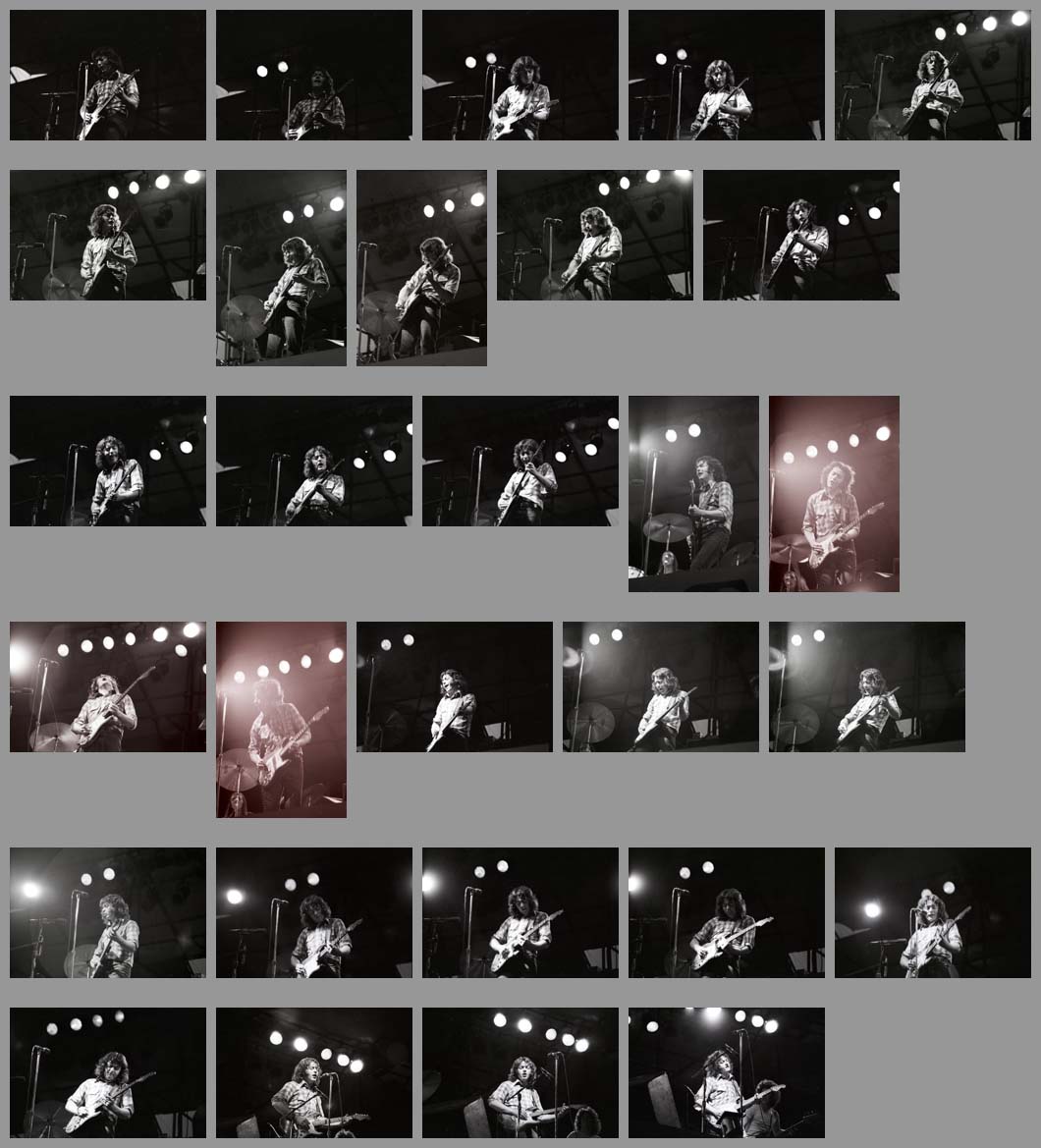 Le fameux concert où il a mis la misère à Aerosmith (ou du moins le public) !
Oui!

Un enregisitrement de qualité très moyenne de ce concert circule, en vocic la tracklist:

01) Messin' With The Kid
02) Tattoo'd Lady
03) Early In The Morning
04) Cradle Rock
05) Just A Little Bit
06) Walk On Hot Coals
07) Laundromat
08) Hands Off
09) Bullfrog Blues
Souvenir d'un spectateur:
The concert was in Central PArk as part of the Shaefer Beer Music Festival. Rory preceded the headliner, Aerosmith. In 1974, they sold beer in bottles to the crowd. Rory was really rocking it out in "bullfrog blues' when a man in a suit walked up and whispered in his ear. He told us this would be his last song and preceeded to repeat the song 3 full times. The crowd went crazy but no encore was allowed. As roadies were removing his equipment, people started to throw empty Shaefer beer bottles onto the stage. After a few starts and stops of the roadies and many announcements, Aerosmith took the stage. Their first song "long train runnin'" was interupted when a broken bottle was thrown and cut the drummer's arm. He stopped the song, told us what happened, threw his sticks into the crowd and proceeded to pound out a bare handed drum solo dedicated to the bottle tosser whom he called "F*cko". Rumor has it that this solo was performed at all their shows for a few years.
Autre review:
I was also at this concert. Rory was amazing, and I remember the crowd going ballistic when Rory left the stage. Aeosmith got the crap booed out of them when they hit the stage.
---
Permission de ce forum:
Vous
ne pouvez pas
répondre aux sujets dans ce forum