En 1972, sort sans l'avis de Rory une démo réalisée à Belfast en juillet 1967 par Taste MK1 (Rory, Norman Damery à la batterie et Eric Kitteringham à la basse).
Cette démo comprend les titres suivants (dans un ordre variable selon les éditions):
1 Wee Wee Baby (2`47)  
2 How Many More Years (3`28)
3 Take It Easy Baby (7`17)
4 Pardon Me Mister (2`54)
5 You've Got To Pay (4`01)
6 Worried Man (2`35)
7 Norman Invasion (3`08)
L'album sort sous différents titres et pochettes:
En CD:
Musicalement, c'est une démo, donc la musique est assez timide, les compos assez banales et Rory, s'il est déjà bon, s'il a déjà de la personnalité, n'a pas encore un style réellement fixé.
Ce sont les tous premiers enregistrements de rory actuellment en circulation (avec le single "Blister On The Moon/Born On The Wrong Side Of Time" paru sur Major-Minor).
Rory a enregistré avant cette démo, mais ces titres ne circulent pas, pas même en bootleg: c'est son frère Donal qui les possède, dont une version de "Slow Down" de Larry Williams.
Un document, historiquement précieux donc mais musicalement loin d'être indispensable. Pour fan seulement.
Dernière édition par Chino le Mar 17 Jan 2012, 15:31, édité 1 fois
On trouve maintenant cette démo sur un CD bootleg paru assez récemment, couplée avec le concert au Marquee (25 octobre 1968):
La tracklist:

-In Concert ( 1968)
Recorded at the Marquee, October 25th, 1968
1.Introduction /Movin'On
2.Pontiac Blues
3.Baby, Please Don't Go
4.Blister on the Moon
5.Sugar Mama
6.First Time I Met the Blues
7.Catfish

- In the Beginning (1974)
Recorded July 1967, first issued 1974, Emerald Records Limited
8.Wee Wee Baby
9.How Many More Years
10.Take It Easy Baby
11.You've got to pay
12.Worried Man
13.Norman Invasion
14.Pardon Me Mister
Autre CD bootleg sur lequel on trouve cette démo (couplée là aussi avec le live au Marquee 68), le
"Live With Taste":
Les titres:
MARQUEE 25 octobre 1968:
* Introduction
* Movin' On / Pontiac Blues
* Baby Please Don't Go
* Blister Of The Moon
* Sugar Mama
* First Time I Met The Blues
* Catfish
----------------------------------------------------
DEMO 1967:
* Wee Wee Baby
* How Many More Years
* Take It Easy Baby
* You've Got To Pay
* Worried Man
* Norman Invasion
* Pardon Me Mister
Un LP espagnol qui reprend cette démo:
Un pressage sud américain (mexicain?) du single: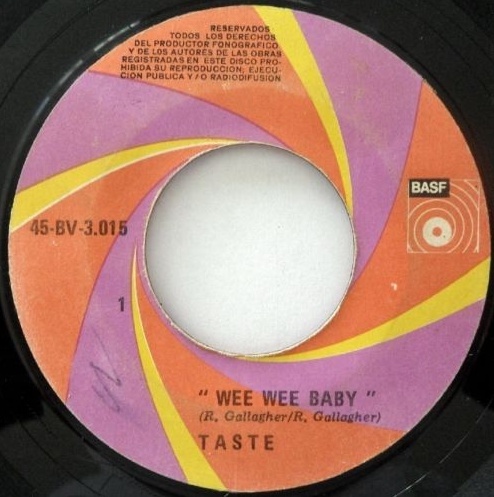 A noter que la Face B,
You've Got To Pay,
est devenu sur ce single
Tienes Que Pagar
!
Wee Wee Baby:
A noter que le titre
"Norman Invasion"
ast paru sur le volume 2 d'une compile intitulée "Rock Guitar Greats", et paru sur la label Springboard:
Je possède uniquement le "In the beginning" et c'est vrai que c'est pas indispensable, du moins on ne le conseillera pas à quelqu'un qui découvre Rory et Taste. Mais c'est un document très intéressant ne serait-ce que pour voir le niveau de Rory à cette époque. Musicalement ce n'est pas très original, très ancrée dans le Blues Boom anglais de la fin des 60's mais le groupe sonne bien je trouve. Chose surprenant Rory prend très peu de solo finalement, les chorus sont assurés principalement à l'harmonica.
---
Permission de ce forum:
Vous
ne pouvez pas
répondre aux sujets dans ce forum