Page 2 sur 2 •

1, 2

Magnifique cette pochette!!!!

Emi




Messages

: 4358


Date d'inscription

: 13/01/2011


Age

: 40



Une chronique de
Photo-Finish
à l'occasion de la réédition:
In 1978, the blues took fourth chair behind disco, hard rock and pop music, which meant that the erratic but often brilliant guitarist Rory Gallagher's 1978 album, Photo-Finish, didn't receive the press nor the sales it truly deserved, rising no higher than #116 on the Billboard Top 200 Charts. That's a sin considering how brilliant his playing is on this terrific album.

When Gallagher died from complications due to liver transplant surgery in 1995 at the age of 47 his music did briefly receive a reappraisal. The latest reissues gives us a chance for a fresh listen to his music. On his own albums, Gallagher exhibited the same fire that burned when he played with others.

This is the fourth time Photo-Finish has been reissued on CD. Reverting back to a trio for this album after the four-piece lineup of Calling Card, the writing isn't quite as sharp here, although the playing is. Reverting to a trio provided the added advantage of allowing the listener to focus much more on Gallagher's instinctive and soulful playing.

The sound of his trio, with Gerry McAvoy on bass and Ted McKenna on drums, sounds tougher and more uncompromising even than do his previous releases, with highlights being the moody "Fuel to the Fire" and "The Mississippi Shrieks," both of which clock in at over six minutes. Likewise, "Overnight Bag" features Gallagher playing acoustic guitar. He deepens and expands the sound with multiple overdubs of himself strumming away, bringing a different flavor when compared to the other songs on the album.

The mastering is good throughout, although not as good as the original CDs reissued in the 1980s, which had a warmer analog sound to them. The EQ choices here are a bit on the bright side as well but this is still an essential album regardless of some of the mastering choices, if only for the bonus tracks.

Recommended.
Source:
http://www.seattlepi.com/lifestyle/blogcritics/article/Music-Review-Rory-Gallagher-Photo-Finish-1912524.php
Review enthousiaste de la réédition de Photo-Finish:
The reissue campaign for the late Irish bluesman Rory Gallagher's recorded output continues with the fine 1978 album Photo-Finish.

Gallagher had seen The Sex Pistols in San Francisco about this time was affected so much by the band's raw energy that he scrapped an entire album and most of his band to rock out anew in a power trio.

Photo-Finish features tough-as-nails rocking bluesers such as opener Shin Kicker and the burning Shadow Play. Gallagher acolytes will want this for the superb remastering of the album as well as the two bonus tracks.

Anyone who likes wide-ranging and authoritative blues with a twist and is on the fence about this man and his music should definitely race out and grab this winner.
SOurce:
http://www.uptownmag.com/music/cd-reviews/Photo-Finish-136397058.html
Une série de photos prisent par le photographe Jon Sievert pour le magazine Guitar Player en 1978:
Dernière édition par Garbage Man le Jeu 23 Mar 2017, 07:35, édité 1 fois
Mes parents avaient à peu près le même papier peint....

Sinon, elles sont superbes!!!

The Dude




Messages

: 10150


Date d'inscription

: 28/10/2011


Age

: 42


Localisation

: Hailleurs



La copie de la sangle de guitare de la photo de couv de l'album "Photo-FInish" est à vendre: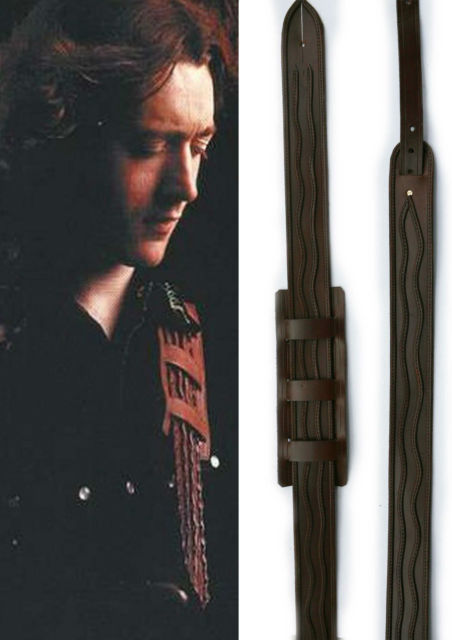 Rory Gallagher Guitar Strap - Photo Finish album replica

This hand crafted guitar strap is made in top grain 3 - 3.3 mm cowhide leather, which is the highest quality. It is adjustable from 47 to 57 inches. The strap is 2 inches wide and the wider shoulder piece is 3 1/2 wide.

there are 4 narrow 3 - 3.5 bands sewen in a parallel way down the length of it. This was a very tricky piece of sewing!

It is a rich dark brown colour.

SOURCE
Cet album est un chef d'oeuvre pour moi et un des plus grands albums de l'irlandais!
A must have comme disent les english!
Fuel the fire, overnight bag, cruise on out sont entre autres de vraies perles!

PS: Philippe Manoeuvre est un con qui changent d'avis comme de chemises! ce type n'a absolument aucun interêt à la fois comme critique que comme journaliste!

beck-bolin




Messages

: 1478


Date d'inscription

: 08/06/2010


Age

: 42



Superbe !!!

__________________________________________
"It is in the shelter of each other that the people live". Irish proverb.

JLo




Messages

: 24482


Date d'inscription

: 15/02/2012



"... Some of the things on "Photo-Finish' are a little more produced than others. Let me see, on 'Overnight Bag' you've got two acoustic guitars doing a bridge part and two electric guitars playing rhythm. Then there's an old 12 string Vox Phantom going through a flanger giving little kinda organish clips. I think that's nice on some tracks, you can build up a little guitar orchestra, if you like, but I want to keep it as subtle as possible."
Traduction:
"... Certaines choses sur "Photo-Finish" sont un petit peu plus produites que d'autres. Laissez moi voir, sur "Overnight Bag" vous avez deux guitares acoustiques faisant un pont et deux guitares électriques jouant la rythmique. Aussi il y a une vieille douze cordes Vox Phantom passant par un effet Flanger donnant une sorte d'accroche organisante. Je pense que c'est sympa sur certaines chansons, vous pouvez construire un un orchestre de guitare, si vous voulez, mais je veux garder ça le plus subtile que possible."
C'est marrant j'ai souvenir d'une photo de Rory avec ce type de guitare mais je n'arrive pas à retrouver la photo en question.

Page 2 sur 2 •

1, 2

---
Permission de ce forum:
Vous
ne pouvez pas
répondre aux sujets dans ce forum